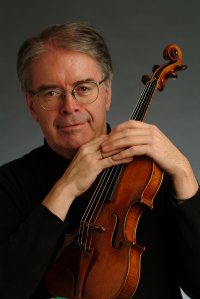 Andrew Albert Dawes, CM
February 7, 1940 - October 30, 2022
Distinguished Canadian violinist Andrew Dawes died in Aldearrubia, Spain, on October 30, 2022, after a battle with prostate cancer. He was predeceased by his parents Lena Mae and Arthur, first wife Karen (Whately) (m. 1967-2017), and his sisters Mary Lou Dawes and Roberta Stephen. Andy is survived by his two daughters Debra and Adriana (Tammy), his grandchildren Katherine and Kurtis (Debra Dawes and Matthew Klymson) and Alexander (Adriana Dawes and Leo Comitale), and his second wife Isabel Vila (m. 2019).
Andy was born in High River, Alberta, to a ranching family. He felt a lifelong connection to the prairies, telling stories about riding his horse Tiny to the one-room schoolhouse, and cattle drives to their summer pasture in the Kananaskis. Andy returned to the family ranch as often as he could, taking his friends and teachers on trail rides. As a young child, Andy studied violin with Clayton Hare in Calgary and Portland, Oregon. To develop his talent further, he left Alberta at the age of 17 to live and study with Murray Adaskin in Saskatoon, Saskatchewan. He won many awards during this time, including the 1962 and 1965 JMC National Competition, and third prize at the 1963 Munich Duo Competition with his sister Mary Lou. On the advice of Isaac Stern, Andy continued his studies at Conservatoire de Geneve with Lorand Fenyves, where he received the 1964 Prix de Virtuosite with the highest marks ever awarded. He was celebrated as "one of the most distinguished violinists Canada has ever produced" (Ottawa Citizen, 1989).
During the summer of 1965, Andy and fellow violinist Kenneth Perkins were studying with Lorand Fenyves at Les Jeunesses Musicales du Canada at Mont-Orford National Park in Quebec. With the encouragement of Mr. Fenyves and JMC director Gilles Lefebvre, Andy and Ken joined with violist Terence Helmer and cellist Marcel Saint-Cyr to found the Orford String Quartet. While engaged as quartet in residence at the University of Toronto, Andy fell in love with a French Horn player, Karen Whately, in the orchestra. Andy and Karen married on October 14, 1967. They welcomed two daughters, Debra and Adriana (Tammy).
The Orford String Quartet had an illustrious career and international profile. As a founding member and first violinist, Andy gave more than 3,000 concerts on 6 continents, and made more than 60 recordings, including the complete Beethoven cycle for Delos Records. Among their accomplishments, the Orford won three Juno Awards (11 nominations), the Canada Council's Molson Prize, and were named by the Canadian Broadcasting Corporation as one of "The Great Canadian Performers of the Twentieth Century". Andy served as jury member for the London International String Quartet Competition, the Coleman Chamber Music competition, the Fischoff Chamber Music competition and was the Chairman of the Banff International String Quartet Competition (1989 - 2004).
Andy was also recognized as a leading force in Canadian chamber music. In 1992, he was invested as a member of the Order of Canada. In 2002, he was the recipient of the Dorothy Somerset Award for Excellence in Performance and Development awarded by the University of British Columbia, as well as the Jubilee Medal awarded by Queen Elizabeth II for exceptional qualities and service to Canada. In 2013, Andy was awarded the Governor General's Performing Arts Award for Lifetime Artistic Achievement. Andy also had a number of works dedicated to him, including Murray Adaskin's Sonatine Baroque for Unaccompanied Violin, and Stephen Chatman's Varley suite for Solo Violin.
After the Orford disbanded, Andy was appointed to the faculty of the University of British Columbia in Vancouver to teach violin and chamber music. In 1995-96, he took a leave of absence from UBC to perform as first violinist of the Tokyo String Quartet, playing on a Stradivarius violin that was made in 1727 and that belonged to Nicolo Paganini. He undertook a number of new projects, including recording all 10 Sonatas for Piano and Violin by Beethoven recorded with pianist, Jane Coop, on the Skylark label (2002 Juno Award nominee) and all the works written for violin by the Canadian composer, Harry Somers, recorded for CBC Records. He also recorded The Seven Last Words of Christ (quartet version) by Haydn, the Schubert Two Cello Quintet and the Schubert Octet for the Ottawa International Chamber Music Festival on the Chamber Music Society Classics label. Andy was involved in many summer festivals including Vancouver, Scotia Festival, Ottawa Chamber Music Festival, Lanaudiere, Domaine Forget, Orford, Banff, Stratford, Kneisel Hall, Ravinia, Mostly Mozart in New York, Norfolk, Kuhmo, and Schleswig-Holstein. In 2006, Andy was appointed to McGill University as Distinguished Visiting Scholar, Catherine Thornhill Steele Chair in Music. In September 2011, he was appointed Director of the newly formed Chamber Music Institute at the Vancouver Academy of Music, teaching chamber music to gifted young players. Andy also served on the Board of Directors of the Saint James Music Academy, which provides free lessons and instruments to over 100 children living in the Downtown East Side of Vancouver. Andy retired from UBC in 2005 and was appointed Professor Emeritus of Music. For most of his career, Andy played on a J.B. Guadignini violin, made in 1770 in Parma, Italy, now called the 'Dawes, de Long Tearse' violin. He later played on a violin made for him by Pierre Dalphin in 1992.
After the death of Karen in 2017, Andy entered a new chapter of his life and married fellow violinist Isabel Vila in 2019. Andy spent his final years with Isabel in Aldearrubia, Spain.
Andy will always be remembered as a gifted violinist whose talent and technical skill shone through every performance. He was known as a challenging but engaged mentor, often reminding students that "Practice does not make perfect. Only perfect practice makes perfect". He loved nothing more than drinking scotch and spending time with friends and family.
---
Information about memorials will be posted to https://AndrewDawes.ca as they become available.
To submit a comment, please send an email to andydawes.tributes@gmail.com. You can include pictures and text, they will be posted here. Please be sure to sign the email with your name to it so we can attribute it correctly.